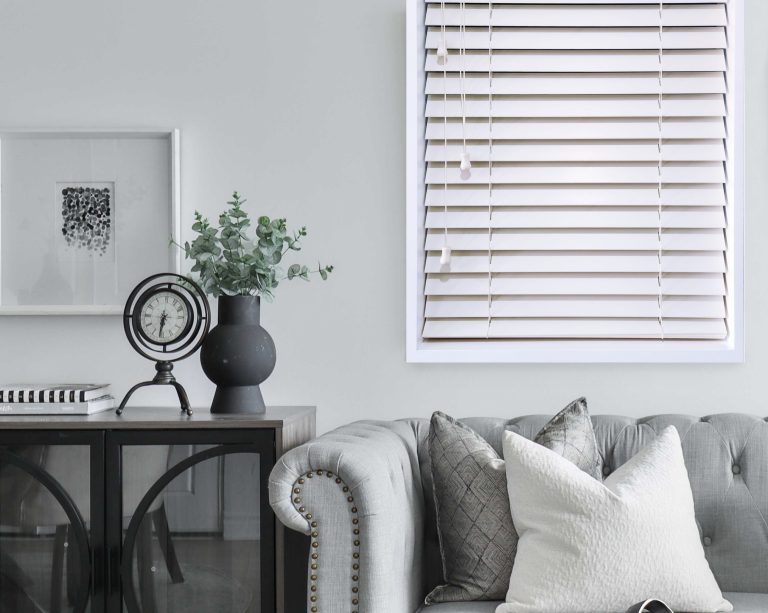 Description
Faux Wood 50mm Smooth
Faux Wood venetian blinds combine the appearance of a painted wood surface with the practicality of composite plastic.
The compressed polystyrene slats are engineered to be both strong and extremely stable. This makes them perfect for high humidity or wet areas. Easy to clean and bring a classic look to any place room – from the kitchen, lounge, bathrooms and bedrooms.
Note: Venetian blinds are privacy screens and are not designed to be kept in the lifted position. The full raised position is for cleaning the window or accessing the window latches behind it. The blinds are also designed to sit on the bottom sill, so these are sitting as they were designed. Venetian blinds are to be kept down at all times and only tilted open and closed.
These blinds are manufactured in New Zealand.
Measuring & Installing Guides
Have a question about Venetian Blinds?
Minimum Width (mm) 250 – Maximum 2700
Maximum Drop (mm) 3000
The slats are a PVC slat. They are 2.75mm thick.
The Bottom Rail is Trapezoid in shape. This Trapezoid bottom rail is hollow and therefore this makes the Smooth Slat blind lighter than the embossed/woodgrain faux wood blinds.
When in a closed position for an inside mount the Bottom Rail will just sit just off the bottom sill minimizing the light gap
but still allowing for full tilt rotation of the slat.
When in an open position the Bottom Rail will sit approximately 14mm off the bottom sill. This is a necessary distance
which allows for the full tilt function rotation and closure of the blind.
If Hold-down brackets are requested the bottom rail will be trimmed shorter with a Hold Down Pin inserted.
Hold Down colours are Silver and Bronze.
Tassels are a smooth plastic finish in colours which co-ordinate with the blind.
This blind can be manufactured with a sloping headrail
The maximum horizontal slope of the blind head-rail is 45 degrees.
The maximum width is 2.5 metres, & minimum width is 400mm.
The maximum drop is 2.5 metres.
The maximum recommended area is 3 square metres.
Additional information
| | |
| --- | --- |
| Colour | Faux Wood Pure White (smooth) |
| Mount type | Inside, Outside |
| Control side | Left control ( for venetian, vertical, honeycomb ), Right Control ( for venetian, vertical, honeycomb ) |
| Control length | Default |