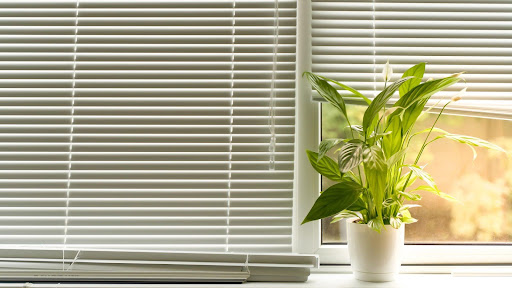 4 Advantages of Aluminium Blinds for Windows
With so many window treatments available, finding the appropriate choice for your home—that fits within your budget and style preference—can be difficult. Aluminium blinds for windows are among the most versatile and cost-effective solutions on the market and—available in numerous colours —can be incredibly stylish. Continue reading to learn more about some of the most meaningful advantages of installing aluminium blinds in your home so you can make an informed decision on your window coverings.
Versatility to Suit Any Room
Aluminium Venetian blinds are highly versatile and come in various colour options and sizes to suit your decorating needs. With their sleek and clean finish, they will fit perfectly into any living space, offering a modern and contemporary touch. You can combine these blinds with other coverings such as curtains or roller blinds for variations in design and lighting.
Cost-Effectiveness
Aluminium helps retain or prevent heat from entering your home, which helps save tremendously on cooling and heating bills depending on the time of year. Metallic and light-coloured blind options are perfect for reflecting sunlight, minimising heat gain, and providing an effective layer of insulation when closed.
Also, because aluminium is a relatively inexpensive material, you can cover large windows and doors much more cheaply than other materials.
Durability
Aluminium blinds have a layer of protective coating that provides a smooth, rigid, and less porous surface, making them resistant to moisture, fungal growth, and corrosion. These blinds are great for kitchens and bathrooms which experience relatively high humidity and mess. However, metal attachments such as the headrail and base bar are not water resistant and sufficient care must be taken when installing these in high moisture locations.
Lightweight, flexible, and UV-resistant, aluminium blinds are built to go the distance. Their durability makes them perfect for rooms with plenty of natural light. They are made to withstand external influences and require little regular maintenance in any space; simply give them a quick wipe with a dry or damp cloth when necessary. However, your aluminium blinds should be removed and thoroughly cleaned twice a year if often or constantly exposed to moisture, salt-laden air, or other corrosive elements.
Light and Privacy Control
Available in 25mm or 50mm slat sizes, aluminium Venetian blinds can be easily controlled with a wand or cord to achieve your desired level of light and privacy through a quick twist. Blind slats enjoy a full 180-degree range of motion. Simply adjust your angle to allow partial amounts of sunlight in or lift and close the blind completely.
Enjoy the Benefits of Aluminium Blinds for Your Windows
With over 30 years of experience, NZ Blinds is a world-class supplier of quality custom-made window coverings. Are you looking for a window treatment solution for your home but not yet sure what material is right? We have the perfect customisable window treatments for your home. Shop online for quality aluminium blinds from NZ Blinds today!