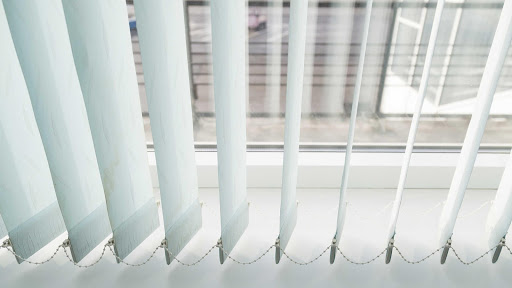 Selecting the right blinds for your home's interior can be tricky, with so many great designs to choose from. In this article, we break down some of our blinds, replacement parts, and accessories to familiarise you with the options available. Make choosing blinds for your windows a breeze by growing your understanding of blind parts and how to use them.
Roller Blinds
Bring your home's interior to life with gorgeous roller blinds from our collection. Chic yet classic in design, our extensive range of roller blinds will fit any home's aesthetic. The wide range of colours, textures, and patterns available means we have options to suit no matter your preference. You can choose a blind that stands out or a muted colour to blend in with the background. 
Additionally, the advantages of this design include the innovative roller mechanism, which provides smooth control and adjustability. Combine with remote control for ultimate convenience. 
Blackout Roller Blinds
Sunlight and streetlights are no match for blackout roller blinds, providing complete darkness in seconds. Their sleek design will complement modern homes or offices nicely. Choose from a range of fabric thicknesses and colours to find an option suitable for you.
Sunscreen Roller Blinds
If your home has a lot of natural sunlight streaming through the windows, you can count yourself lucky. However, excessive exposure to sunlight can damage your furnishings.   
Sunscreen blinds allow the light to enter our homes while reducing the sun's harshness and preventing excessive heat accumulation. These blinds keep your home and living area pleasantly comfortable.
Combo Roller Blinds
Roller blinds can be installed as a 'combo blind' for maximum benefits and precise control. Combo blinds offer ultimate functionality as you get the benefits of both sunscreen and blackout blinds. 
Venetian Blinds
Venetian blinds are a classic and sophisticated option that looks beautiful in all contemporary homes. In use for centuries, Venetian blinds have become incredibly common in all types of settings, including modern offices. The Norman Venetian blind range is a favourite amongst homeonwers. Venetian blinds are available in different styles, from faux wood to durable aluminium.  
Aluminium Venetian Blinds
Aluminium Venetian blinds are an affordable, classic, and functional window covering. Offering precise control over the light entering a room, plus great privacy, they are low-cost and easily installed.
Wooden Venetian Blinds
Add timeless beauty to your home with the look of natural timber. Venetian blinds are sleek and modern, bringing a subtle, stylish look into your space. They are a versatile blind option, available in a range of slat sizes and colours to suit your needs.
Faux-Wood Venetian Blinds
Faux-wood options are made with composite plastic and mimic the look of natural wood, making them resistant to water. They are commonly used in rooms with high humidity or wet areas, like the bathroom or laundry room. Faux-wood Venetian blinds are also easy to clean, making them a practical choice for homeowners.   
Shutters
Shutters offer incredible functionality. They're a great option for those looking for low-maintenance window covers. Shutters feature horizontal blades that open and close for excellent light control and privacy. Classic in design, shutters will suit any room in the home, especially sunrooms.
Our shutters are beautifully crafted and coated in a smooth, painted finish. For rooms with higher moisture levels, we have shutters made from Polymer to keep them strong and beautiful for years.
Honeycomb Blinds
Unique and functional, honeycomb blinds offer fantastic insulation for your home—up to three times more than a standard curtain. With both corded and cordless (SmartRise) options, you can pick the ideal design that works for the space. The ribbed build provides a subtle but attractive striped design, perfect for bedrooms or family rooms.
Known as Thermacell, honeycomb blinds are one of the most heat-efficient options available on the market. The fabric allows for effective blackout properties, making them a multifunctional choice for your home.
Vertical Blinds
Large windows and ranch sliders are one of the more difficult places to fit blinds or curtains. With such a large area, there's more pressure in choosing your product. Vertical blinds are ideal for larger window spaces and are one of the lowest-maintenance choices. The vertical design prevents dust from building up and keeps your blinds looking sleek.
Rotation adjustment means that there is complete freedom when it comes to light and privacy. You can light up the entire room with the pull of a string or draw the blades together to open up the window completely. Vertical blinds are a clean and functional choice for big, high, or sloping windows. They are an excellent option for both residential homes and commercial offices.
Blind Replacement Parts & Accessories
No matter what blind material or mechanism you have, it won't work without the right parts. NZ Blinds has blind parts and accessories to keep your blinds in their best condition.
NZ Blinds has a wide range of control chains, weights, hangers, and wall brackets to ensure that your blinds operate smoothly. Our blind replacement parts will keep your blinds strong and functional for many years. Endcaps and replacement bottom link chains are available to replace elements that have wound up lost or broken.
If you need to clean your Venetian blinds, our Venetian slat cleaner is a practical solution. This handy accessory can effectively remove dust and clean multiple slats simultaneously, and the microfibre material is washable and reusable.
Discover Our Full Range of Blinds Today
NZ Blinds has an extensive range of blinds available in different styles, colours, and textiles. If you're building a new home or just looking to change up your blinds, we can help. Discover our entire collection of blinds, replacement pieces, and other accessories online.