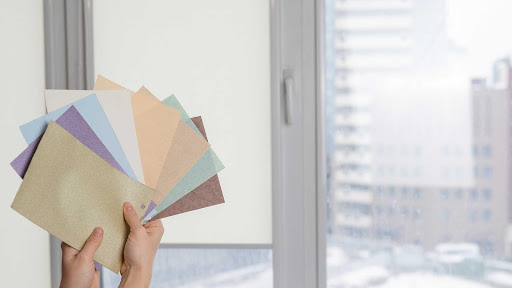 Installing two blinds for one window offers flexibility in light and privacy control while being incredibly versatile in its design. Instead of being limited to two lighting options (having the blinds up or down), you can adjust dual roller blinds to suit your needs. They also provide advantages such as greater energy efficiency and high durability. We explore how dual roller blinds work and further benefits below.
How Do Dual Roller Blinds Work?
As their name suggests, dual roller blinds feature two roller blinds installed in a single bracket, placed one in front of the other with separate controls allowing you to operate each individually. Dual roller blinds usually feature two types of fabric: blackout fabric to block out as much light as possible and a sheer or translucent sunscreen material that allows some light to enter. You can use both, switch between them, or adjust them according to your preferences. The sheerer blind provides ample privacy and softened lighting during the day, while the blackout blind provides complete darkness and helps the body produce more melatonin for a good night's rest.
The Benefits of Dual Roller Blinds
Highly adaptable to your lifestyle, this stylish window covering allows you to customise the fabric you want for each layer of your dual roller blinds.
Light and Privacy Control
Dual roller blinds allow you to change the amount of light and privacy you get during the day. You can adjust your blinds to minimise sunlight exposure in the morning and get a full night's rest. Switching to your sheer sunscreen roller blinds will provide a filtered and more pleasant light environment instead of being exposed to harsh, intense rays during the day.
The closely woven structure of a sunscreen blind will work well in the daytime for sufficient privacy while letting in sunlight and allowing you to view the outside. Sunscreen blinds also block up to 97% of harmful UV rays, protecting your home and furniture from excessive sun damage and fading.
Multifunctional and Energy Efficient
Change the look of your room as and when you need to with our individually controlled dual roller blinds.
Not only are they great for heat and privacy control, but they also provide added insulation for your home due to the extra layer of trapped air. This helps your home stay cool during summer and warm during winter, improving your energy efficiency and providing additional comfort year-round.
Durable
Our high-quality construction and superior fabric make dual roller blinds a durable and hassle-free option for many homes. Easy to use and clean, they require little maintenance while offering a highly functional and stylish solution. Install dual roller blinds in your home or business and enjoy their benefits for many years.
Double Up with NZ Blinds
At NZ Blinds, we offer a range of options for customising your roller blinds. We are the provider of choice for high-quality functional blinds throughout New Zealand and the Pacific Islands. Choose from different colours, fabrics, and patterns to create a versatile and effective window treatment solution that will look stylish in any room. Start your customisation journey; shop online for dual roller blinds from NZ Blinds today!