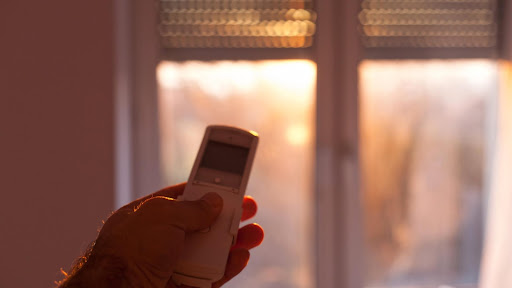 Window blinds are an easy and practical method for controlling light and privacy in a home, office, or store. Automating your blinds adds an extra layer of accessibility and convenience, simplifying the operation process. With plenty of stylish options, including a wide selection of colours and fabrics, customise your motorised roller blinds to suit your home as you please. We discuss what you should know before buying motorised blinds so you can make the right choice.
How Do Motorised Blinds Work?
Setting up motorised blinds doesn't require extensive or complicated installation. Choose from a wire-free battery-controlled or an electric motor connected to the main electricity supply. You can control your electric motor with a remote or phone from anywhere in the room without manually adjusting your blinds.
You can apply motorisation to any roller blind of your choice. Blackout fabric is perfect for blocking out light during the day and will work well in bedrooms for non-interrupted sleep in the morning, allowing you to control them from your comfortable spot in bed. Sunscreen fabrics will provide a stunning light-filtering effect and sufficient privacy, protecting your furniture from sun damage and fading. Automated blackout and sunscreen blinds can be combined on a single bracket for a catered light and privacy solution at any time of day, according to your needs.
The options for motorised blinds are wide-ranging. Choose a customised solution that will work best for you and your home or office.
The Benefits of Motorised Blinds
Control and Convenience
Quiet and easy to use, you can control your remote-compatible motorised blinds from your smartphone or remote with ease from wherever you are.  This easy accessibility is ideal in homes where the windows are hard to reach. Motorised blinds are also a great option for elderly and mobility-restricted individuals, as they won't have to move to operate their blinds.  
Aesthetics
Motorised blinds offer more than just excellent functionality; they're also a stylish choice. The motor is virtually invisible and concealed within your roller tube, providing a seamless window blind design. Enjoy quiet and smooth operation with a remote-compatible option from anywhere in the room. With various colour and fabric choices, customise the perfect stylish motorised blinds to complement your room design or serve as a gorgeous feature piece.  
Safety
Unsecured blind cords and chains can be a safety risk for children and pets if they become accidentally tangled in them. Our range of motorised blinds is cordless and easy to operate, perfect for keeping your family safe without compromising aesthetics or convenience. 
Order Motorised Blinds with NZ Blinds
With 30 years of involvement in the window covering solutions industry, NZ Blinds is your number-one choice when installing motorised roller blinds in NZ. Our easy-to-use online system makes ordering blinds simple and fuss-free; just input your window measurements and custom options like fabric, colour choice, and control functions for a catered blind solution. Order tailored, made-to-fit motorised blinds today! Browse our range of style choices online and get started on your purchase.