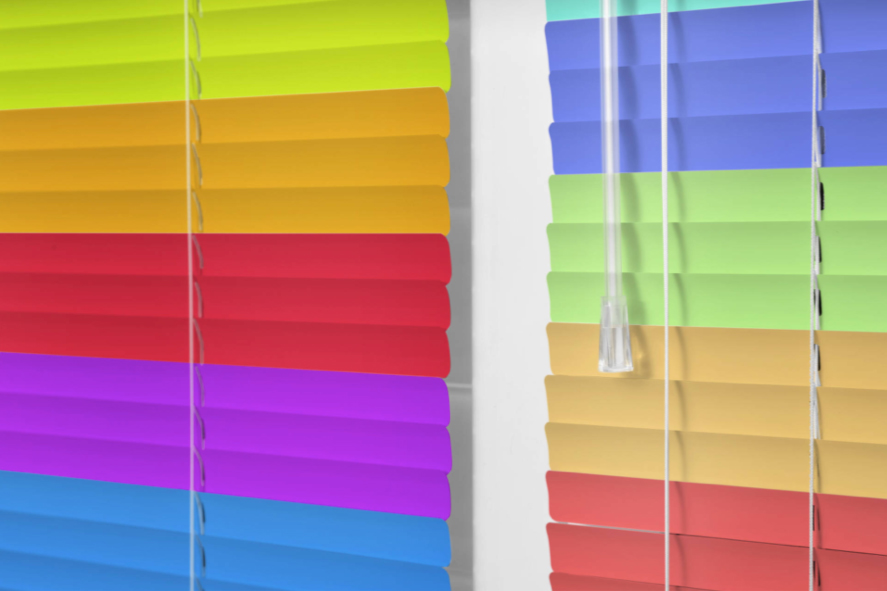 When buying new window blinds for your home, should you choose vibrant blinds or neutral blind designs? No matter whether you're looking for simple blind designs, printed roller blinds, or sophisticated Venetian blinds, choosing the right colour for your home can be difficult. When redecorating your home, it's important to create a cohesive style throughout the house. As experts in the industry, we can help you! Explore the pros and cons of neutral blinds and vibrant blinds below and see what works for you.
The Pros & Cons of Neutral Colour Blinds
The benefits of neutral colour schemes
Neutral colours can balance and harmonise. Incorporating neutral-coloured window blinds into your interior design can be an excellent way of balancing and harmonising the feeling of a room. This can be particularly effective in interiors that already feature eccentric or eclectic pieces.
Look clean and sophisticated. Neutral hues can make a room feel clean, chic, and classy.
Add a sense of calm consistency. Just as cluttered interiors can clutter the mind, an interior with consistent designs and neutral colours can be refreshing and calming to the senses.
Versatile and easy to work with. Because of the versatility of neutral tones, they can be effectively paired with a range of colour schemes. If you love decorating for the season and enjoy refreshing your home feel, neutral window blinds will easily complement any style of furniture or home décor.
Add a sense of drama. If paired strategically, neutral colours can be used to dramatic effect; imagine black blinds in a white room, or vice versa. If you want to add a modern or contemporary feel to your home, this could be the option for you.
The drawbacks of neutral colour schemes
Can be boring and uninspiring. If there are too many neutrals in a room, it can sometimes make the interior feel boring, bland, and uninspiring.
Can wash out a room. Neutrals used in the wrong way can make a room feel dull.
Lacking in personality. If you don't include pops of colour here and there, it can end up feeling rather impersonal and clinical.
The Pros & Cons of Vibrant Colour Blinds
The benefits of vibrant colour schemes
Adds energy. Incorporating window blinds with vibrant tones or striking designs can be a great way of adding energy or movement to a room.
Be the focal point. In rooms that primarily have a neutral colouring scheme, vibrant blinds can be used as a focal point to draw the eye and add dimension.
Effortless personality. Vibrant colours and interesting blind designs will instantly add personality to a room and make for an inspiring atmosphere!
The drawbacks of vibrant colour schemes
Too much colour. Too much colour can be overwhelming and create a sense of calamity, which is not what anyone wants to come home to after a busy day in the office.
Restrict your decorating. While a vibrant blind may look lovely with your present furnishings, they may be difficult to match if you ever want to update your décor or change the colour scheme.
Colour imbalance. Choosing the wrong colour may make the room feel imbalanced.
Vibrant blinds should match the outside of your home as well. Imagine installing bright orange blinds to add a pop of colour in your interior, only to realise that it contrasts horribly with your home exterior.
Combining Neutrals & Vibrant Colours
While it's a good idea to understand the pros and cons of using neutral tones and vibrant colours in your home design, it's equally important to know the benefits of strategically combining neutrals and colours. Together, they can complement and embellish a home's style wonderfully! The key takeaways from this overview would be to consider what feeling your home is lacking; is it too plain and muted in colour? Does it need some personality? Or does it need some calming tones and consistency? Every home is different and so are our personal preferences. So, when colour scheming your home, think about what makes you happy and what you would like to come home to every day.
If in doubt, rely on the experts at NZ Blinds!
Choosing the perfect window blind design and colour scheme for your home can be difficult, if you're in need of some inspiration or advice, talk to the team at NZ Blinds. As expert providers of quality blinds in New Zealand, our extensive range of designs ensures you have complete freedom to create a personalised blinds design that suits any room in your house. Contact us today and we'll gladly help you find the best blinds for your home!